loza wrote:
Loza, you showed a picture of New Jersey falcons.
Juliet, b / g 41 / AX, male unbanded.
Residents in this nest are:
Female - Red Girl - rev. black / green A / 53 - left leg, red tape on right b. 2008 in Harrisburg - came to Wilmington in February 2010
The male - Trinity - without rings, came to this nest in April 2013 (he is the third male in this nest)
FB - Wilmington Falcons -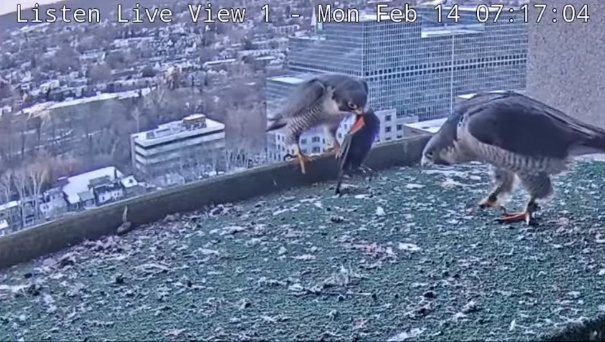 Quote:
Trinity has now started supplying two feedings a day to Red Girl. This relieves her from all hunting efforts, an activity which could potentially harm a forming egg. Both falcons are visiting the nestbox and working the scrapes several times a day now. Typically she lays her first egg in the first week of March. Two years ago her first egg arrived on Fabruary 26th! That's right, we are just a week or two away now. Here are some quick clips of her food deliveries from Monday through today.
Today