Laysan Albatross, Kaua'i, Hawaii
This is a nest at the same place as it was last year, but there's only one Albatross pair raising a chick. The pair consists of two females. This situation is caused by shortage of males in the colony. The male to female ratio among the Kaua'i Albatrosses is about 40 – 60. Therefore sometimes two females arrange a nest. In this species two adult birds are absolutely necessary to incubate an egg and take care of the chick. They lay one egg each, but these eggs are usually not viable because even if the females mate once or twice with any otherwise attached male, this may not be sufficient.
More information about Albatross female-female partnerships can be found in the article
http://www.ncbi.nlm.nih.gov/pmc/articles/PMC2610150/
Fortunately, the site attendants had a source of Albatross eggs. On the Midway atoll, where the military has its base, the nesting of these birds was discouraged: their eggs were taken away. After 2 weeks of incubation the eggs can be subject to candling to detect their viability and then replaced with the good ones if necessary. This happened in the case of the nest on Kaua'i. The two females are named Philialoha (K097) and Mahealani (KP672). The chick named Kalama hatched on January 26. So far his development progresses normally.
More information about the nest and the species can be found on the website of Cornell Lab of Ornithology.
http://cams.allaboutbirds.org/channel/4 ... Albatross/
Some pictures:
January 31. Feeding
The site is often visited by other birds. For example:
February 9: Common Myna & Red-crested Cardinal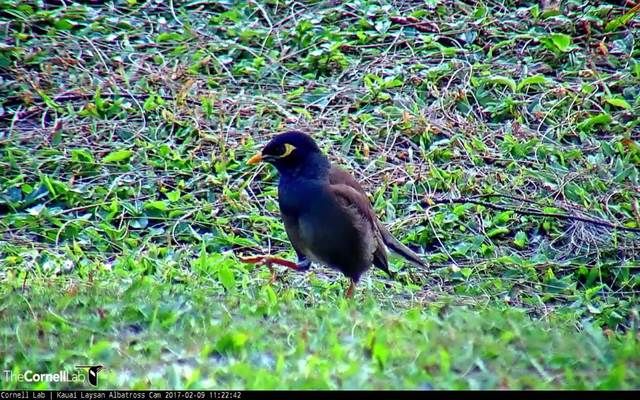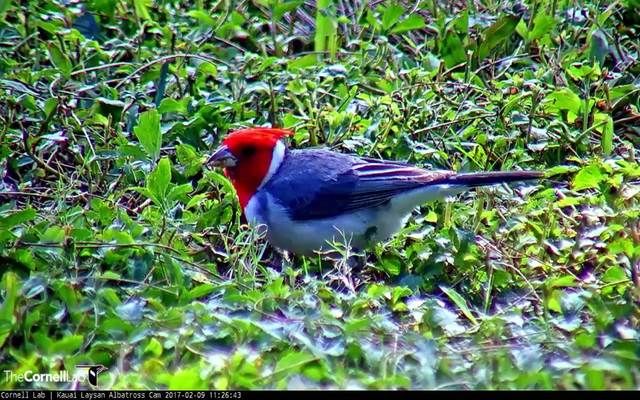 Some videos:
Albatross mating, November 15, 2016
https://www.youtube.com/watch?v=UXCd84rLu2I
Mating dance, December 2, 2016
https://www.youtube.com/watch?v=UyV82ASVZq8
Candling, parts 1 & 2, December 9, 2016
https://www.youtube.com/watch?v=IlT1z-5VQ2U
https://www.youtube.com/watch?v=i6P0rCg7NVs
New egg for Mahealani. December 13, 2016
https://www.youtube.com/watch?v=gph99ie5xGs
Another mating dance, February 2, 2017
https://www.youtube.com/watch?v=S-M0y5SSv0s
Wake-up call. February 9, 2017
https://www.youtube.com/watch?v=4Gs70vjmokk